FINANCE'S

ROLE IN DEFORESTATION
Forests & Finance assesses the finance received by over 300 companies directly involved in the beef, soy, palm oil, pulp and paper, rubber and timber supply chains, whose operations may impact natural tropical forests and the communities that rely on them in Southeast Asia, Central and West Africa, and parts of South America.
Start Exploring Now
Helping You Research & Analyze by
Identifying trends
Explore how much money flows into different forest-risk commodity sectors across tropical forest areas during specific timeframes.
Revealing transaction Data
Dig deeper into our database of banks, investors, and deforestation-risk companies, with up to 10 search criteria options.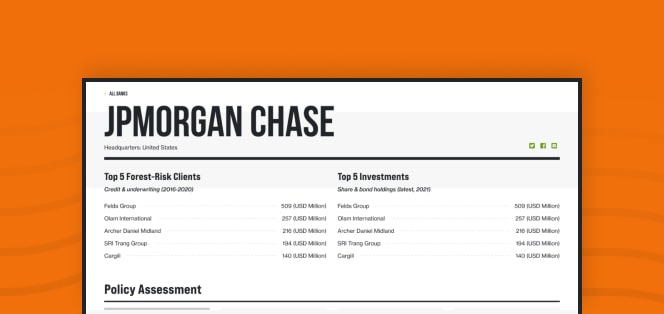 Assessing policies and exposure
See how banks and investors measure up on environmental, social and governance (ESG) policies and their exposure to forest-risks
LATEST INSIGHTS & ANALYSIS
How The Data Was
Obtained and Processed
Scope of the data

This project assesses the financial services received by over 300 companies directly involved in the beef, soy, palm oil, pulp and paper, rubber, and tropical timber ("forest-risk sector") supply chains, whose operations impact natural tropical forests in Southeast Asia, Central, and West Africa, and parts of South America.

Source of the data

The financial data was retrieved from: financial databases (Bloomberg, Refinitiv, Thomson EMAXX, TradeFinanceAnalytics, and IJGlobal); company reports (annual, interim, quarterly) and other company publications; company register filings; as well as media and analyst reports. These were used to identify corporate loans and underwriting facilities provided to the selected companies for the period 2013-2020 (April), and bondholding and shareholding data for April 2021.

Adjustment of the data

Companies with business activities outside of the forest-risk sector had recorded amounts reduced to more accurately present the proportion of financing that can be reasonably attributed to the forest-risk sector operations of the selected company, in the selected regions (see Adjusters).
For more information, please see the methodology section.
Featured Story Using Our Data
Banking Centers of Brazil, Indonesia, China, the United States and Japan Are Bankrolling Global Deforestation, New Analysis Finds
More than USD 238 billion in credit has been provided to companies driving tropical deforestation globally since the Paris Climate Agreement
A Coalition Seeking Change
We seek to improve financial sector transparency, policies, systems, and regulations to prevent financial institutions from facilitating systemic adverse Environmental, Social and Governance (ESG) impacts that are all too common in the operations of many forest-risk commodity sector companies.